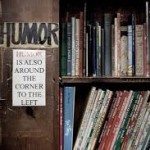 Finding humor books is very hard. Every publisher describes any book with even a single joke as funny, and being funny in print is more difficult than being funny on film where you have sight gags and timing to aid you. That is why, when you find a genuinely funny book, you share it with as many people as possible; it is just too rare a commodity to let go to waste. Below are 5 funny novels and cartoon books for adults you should check out.
5. There's a (Slight) Chance I Might be Going to Hell (Laurie Notaro)
Notaro's books are funny essays that should be required for college reading for any creative writing course. If nothing else, to help you show all you have to look forward to in your career as a professional writer. Her first novel is not quite as side-splitting as her nonfiction, but it is worth the read just for the scene where she joins a gothic book club expecting Mary Shelley and gets Practical Magic.
4.  The Pro (Garth Ennis)
This is comic book, but it still counts as a novel. Anything good enough for Alan Moore should be good enough for you. Garth Ennis did this hilarious and R-rated send-up of the superhero comic where a single mom who moonlights as a prostitute is given superpowers in a dare by an alien. This humor book contains the greatest sodomy joke of all time.
3. John Dies at the End (David Wong)
We cannot expect nothing but comedy from a Cracked.com writer and that is what you get. You just have to read three pages of sarcastic paranormal horror story before you know that it was the perfect gift for the most deranged members of your social circle. You probably will not like this one unless there is something completely wrong with you.
2. Crooked Little Vein (Warren Ellis)
Ellis is a comic genius that has finally turned to prose. Crooked Little Vein is a detective tale that starts with its hero matching wits with a rat that is pissing in his coffee, and then goes out into America to see a lost Constitution misplaced by Richard Nixon in a whorehouse. You might have to clean the soda off your computer screen before you finish the first page.
1. Good Omens (Neil Gaiman and Terry Pratchett)
Neil Gaiman cannot really be called funny, even though it is hard to think of a single work that did not have at least on brilliant joke. Conversely, Terry Pratchett writes some of the funniest books around. Good Omens is a collaboration that heavily parodies the Omen. Several very helpful theories are put forth in the novel, like how all albums left in a car eventually become The Best of Queen, and how freeway design is actually a plot by Hell to increased frustration in the world.
Laughter is one of the best things in the world; reading humor books can greatly help you brighten up your mood and your day. Get yourself a couple of humor books and start laughing.